<<< Previous Slide   Finish    Next Slide >>>
Timesheet provides a Web client that is very similar to the Windows client. The Web client provides an excellent solution for users and line and project managers.
System administrators will still need the Windows client as the Web client does not include TimeSheet's administrative functions.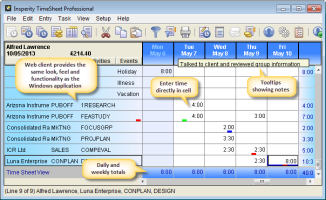 Click on the screenshot to view a larger image
If you have any questions about any of the features mentioned, please contact one of our sales consultants on 020 8423 8855
Alternatively, please download an evaluation copy of our software and see how easy it is to use
Next Slide:
 <<< Previous Slide   Finish    Next Slide: Build Component Relationships for Consistent Task Building >>>